Event Is Over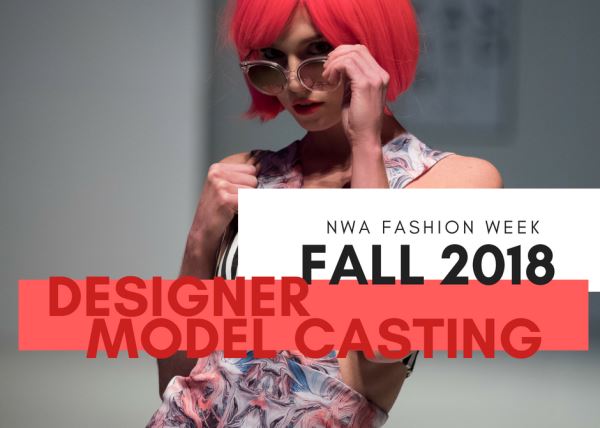 Starts
Jul 22nd 2018 · 2:00 PM (Sun)
Ends
Jul 22nd 2018 · 5:00 PM (Sun)
Refund Policy
Refunds Up To 1 Day Before Event Unless Canceled or Rescheduled
Where
4500 S School Ave, Fayetteville, AR 72701
---
Details
ATTENTION MODELS!

This is the official casting call for the Fall 2018 Designer Runway shows. Designers participating in Fall NWA Fashion Week will be in attendance to select models for their runway shows. All individuals interested in modeling for designers for the Fall 2018 runway will need to attend this casting.

NWA Fashion Week Fall 2018 will take place September 20-22, if you are cast you will be expected to be available all day the day of your shows.
Please plan to arrive based on the first letter of your last name:
A-I: 2:00 pm
J- Q: 3:00 pm
R- Z: 4:00 pm
*MODELS MUST BE AT LEAST 18 YEARS OLD TO PARTICIPATE.
*THE BOUTIQUE CASTING WILL HELD ON AUGUST 26TH, IF YOU WISH TO BE CONSIDERED TO MODEL FOR A BOUTIQUE, YOU WILL NEED TO AUDITION ON AUGUST 26TH.