Event Is Over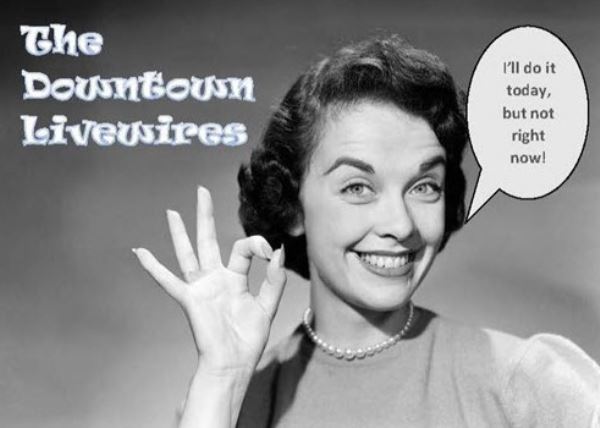 Presented by Tii
THE DOWNTOWN LIVEWIRES, LIVE! at Haxton Road Studios!
Opens
6:00 PM
Starts
Aug 10th 2018 · 6:45 PM (Fri)
Ends
Aug 10th 2018 · 9:00 PM (Fri)
Refund Policy
No Refunds Unless Canceled or Rescheduled
Where
222 SE 2nd St Suite 100, Bentonville, AR 72712
---
Details
The music event of the Northwest Arkansas summer! THE DOWNTOWN LIVEWIRES host the final stage of their LIVE studio recordings at Haxton Road Studios for their upcoming January 2019 release of LP "I'll Do It Today, But Not Right Now!", in front of a LIVE studio audience... THAT'S YOU! The "Later with Jason Suel" TV show will be there to air it, with none other than Jason Suel hosting the event! A video crew will also be there to film it for YouTube. Bentonville's own iconic restaurants and long time friends of the band, Tusk & Trotter and Bentonville Butcher & Pint, led by critically acclaimed Chef Rob Nelson, will provide the FREE hors d'oeuvres! THANK YOU, ROB and team! And yes, beverages will be provided free of charge, as well. And to make sure you always remember this event, each attendee will receive a pre-release 2019 T-shirt for the upcoming album. There are only 60 seats available for this event: $30 each + $5 taxes / fees. MAKE SURE YOU HAVE ONE OF THESE TICKETS!