XXXTentacion Memorial Bash
Oct 22nd 10:00 PM
XXXTentacion Memorial Bash
---
Event Is Over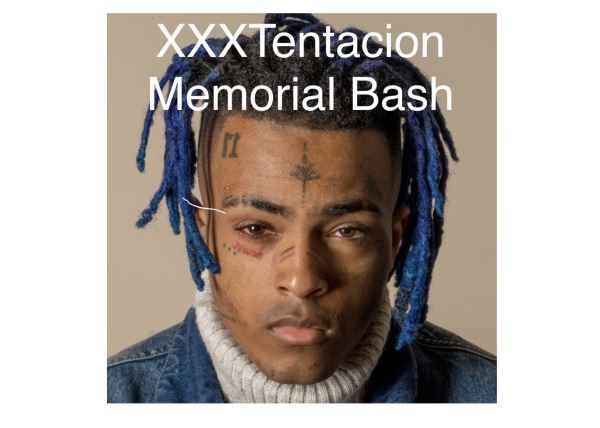 Presented By : aVi Arga
XXXTentacion Memorial Bash
XXXTentacion
Starts
Oct 22nd 2018 · 10:00 PM (Mon)
Ends
Oct 23rd 2018 · 1:00 AM (Tue)
Refund Policy
No Refunds Unless Canceled or Rescheduled
Where
3050 Woodbridge Ave, Edison, NJ 08837
---
Details
Back Story:
When I first discovered XXXTentacion I was on Instagram, I saw one of those posts about Drake stealing someone's vibe. I saw this guy (XXXTentacion) and I thought to myself this guy looks cool let me hear a song which was Look At Me. The song was so good that I kept looking for more and checking out who this guy was. To me his music was so amazing, I was the first one blasting his music in my school, all of my classmates thought I was weird but as time passed most of them started liking it as well. People would start calling me X and it felt good to represent this guy which at the moment he was in jail. I remember praying for him to get out so the world could get to know his music. He was truly one of my favorite rappers.
As time pasted by I started saving up to go see him perform in an area close to me, but now that is never going to happen.
In July 18, 2018 my friend sent me a message with a post of tmz which I thought it was fake. The post said that XXXTentacion was shot and of course there's no way I was going to believe that. That is until I saw the last tmz post. I was broken just like all his fans, I did not wanna believe it for 2 days straight. I couldn't even listen to his music. On the third day after his death I tried playing his music once again, " Hope " was the one song that got me in tears, Right when I heard him say "
Rest in peace to all the kids that lost their lives in the Parkland shooting
".
XXXTentacion Memorial Bash:
This Memorial Bash is for everyone and anyone who still wakes up missing XXXTentacion. It is for the people that

couldn't

make it to his Memorial in

Florida, the ones who never got to see him perform, or got to meet him. I want this Memorial Bash to be a chance for people who are still sad as I am myself to all get to together to represent him.

IF YOU DO NOT LIKE HIS MUSIC DO NOT COME
The idea is to have a rave for all his singles and albums so with that said XXXTENTACION MUSIC ONLY.
No food will be served
There will be extra activities for example: contests, giveaways, fake tattoos, etc. Some activities do need purchase in the event.
At the end "before I close my eyes" will play and I would like for everyone to sing along and to show respect for his death.

Age: 18 and up. Please bring ID

Safety and Rules: There will be Police and Security so please to get in do not bring anything you know you shouldn't.
If you are 21 and older there will be no bar ( No one is allowed to drink )
No Drugs
No Alcohol
No Weapons
No Fighting
We are all here for X and to have fun

Dress Code: The only dress code is to be yourself
But if you have his ( revenge ) hoodie or any of his clothing please wear
If you have a outfit dedicated to him please wear

Contest and Giveaways

Contest: Will be who is more dressed and looks like him the most (Winner will win a prize)

Giveaways: Will be held at the place and the prizes are secret. (Must Come)
There will be a few giveaways some will be free.
For the payed giveaway raffles you will be able to purchase a ticket (Only Cash for the extra activities in the event).

HELP SPREAD THE WORD