Introduction to Sewing: Beginners Course
Jan 12th 10:00 AM
Introduction to Sewing: Beginners Course
---
Event Is Over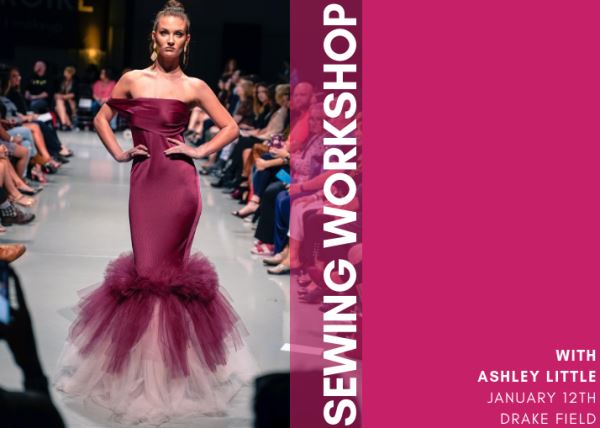 Arkansas Arts & Fashion Forum
Introduction to Sewing: Beginners Course
Starts
Jan 12th 2019 · 10:00 AM (Sat)
Ends
Jan 12th 2019 · 5:00 PM (Sat)
Refund Policy
No Refunds Unless Canceled or Rescheduled
Where
4500 S School Ave, Fayetteville, AR 72701
Conference, Classes, Training, or Workshops
Design, Education
---
Details
Arkansas Arts & Fashion Forum will be hosting a beginners sewing course on January 12th at Drake Field in Fayetteville. This course has a capacity of 10 participants, and will last for the entire day with a one hour lunch break. Attendees are recommended to bring their own lunch. Light snacks and drinks will be provided.

INTRODUCTION TO SEWING: BEGINNERS WORKSHOP
Course Description:
Want to learn how to sew, but don't know where to start? This course is for beginners and will start with basics like how to thread a machine and reading a pattern. We will focus on equipping you will skills that will allow you to further your passion at home. Bring questions you may already have or just an inquisitive attitude. We are starting with the basics because every great design starts with accurate patterns and sewing straight seams. Sewing is an amazing skill that can allow your ideas to come to life. This course will help get you started on that journey.
Key Learn Points:
- Reading Patterns
- Thread Machines
- Technical Terms
- Cutting and Pressing Technics
- Accurate Measurements
- Fabrics
Instructor Bio
Ashley Little has been sewing since around the age of five. Taught by her mother, she can't remember a time when sewing wasn't a part of her life. Pursing her passion, she received a bachelor's degree in Apparel Studies from The University of Arkansas in 2007. After working in the industry, she decided to go back and get her master's degree while teaching a sewing course at the U of A. Then in 2012 she started her own custom design and alterations business, Material Concepts. Over the past six years she has made everything from wedding gowns to suits for her clients. Then when NWA Fashion Week was rebooted in 2017, she was one of the designers in the first show and in the Spring of 2018, she launched her brand Ellen Elaine. Ashley comes from a family of creative minds with both grandmothers being artists and skilled designers. Then her mother passing along the tradition, she feels privileged to honor all of their memories by teaching others what they taught her.

This workshop is made possible with the generous support of the Walton Family Foundation.