NWAFW x Avant Garde
Apr 6th 7:00 PM
NWAFW x Avant Garde
---
NWAFW x Avant Garde
Event Is Over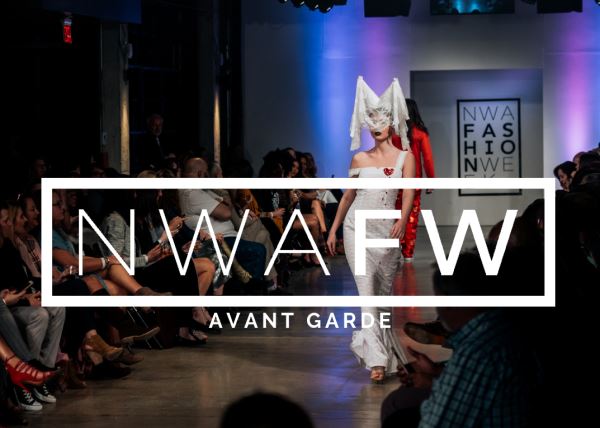 Opens
6:30 PM
Starts
Apr 6th 2019 · 7:00 PM (Sat)
Ends
Apr 6th 2019 · 10:30 PM (Sat)
Where
104 SW A St, Bentonville, AR 72712
Refund Policy
No Refunds Unless Canceled or Rescheduled
Trade Show or Expo
Fashion, Beauty
Details
NWAFW x Avant Garde
Saturday, April 6th, 6:30pm-10:00pm | Record
Doors at 6:30pm / Show at 7:00pm.
Tickets range from $50 - $200
NWAFW x Avant Garde is our most experimental and creative runway yet. We are featuring exclusively designers from Arkansas and Oklahoma whose designs are on the cutting edge of creative apparel.
Designers
ALyece Lenae Designs
The Ashton Hall Collection
Basana Chhetri
Bizarre Couture
Eclection
Ellen Elaine
Nicole Simone
Regenerous Designs, LLC featuring B-Unlimited
Robbie's Era
Rosie Rose Designer
Samantha's Garden
The R Gene by Richard Cotto Benitez


Ticket Specials! If you enter the 'NWAFW' at checkout you can receive 10% off your tickets to the other shows!
After Party in partnership with The Holler - A Local Hangout


NWA Fashion Week is sponsored by 3W Magazine, Arkansas Arts & Fashion Forum, AMP Sign & Banner, Arvest, Citiscapes Magazine, Covergirl, Danielson Law Firm, PLLC, Farm Studios, Fortune Horse, Fox 24, French Kiss Coffee, Grit Studios, High Society Event Rentals, HOWSE, Hudson / Hawk Barber & Shop, JTH Productions, KNWA, Nothing Bundt Cakes, Paul Mitchell School, Record, Rich's, Ropeswing, Salon Service Group, Secondhand Smoke BBQ, Some Assembly Required, Springwoods Behavioral Health, Swetnam Cosmetic Surgery, The Arkansas CW, The Looking Glass NWA, The Nines Bentonville, Uptown Eyes, Visit Bentonville, Wright, Lindsey & Jennings LLP; Yeyo's El Alma de Mexico.

NWA Fashion Week is partnered with Allied Cycle, BlakeSt, Crystal Bridges Museum, Dave and a Camera, Downtown Bentonville Inc., Dustin Slaughter Photography, Hudson Photography, Jessica Whalen Films, Jes Summersett Photography, Rumwolf Video, Samantha T Photography, The Idle Class Magazine, Walmart Inc.
For travel information, please check out www.visitbentonville.com or call their toll-free number (800) 410-2535.

promotional image © Miles Witt Boyer Photographic Collective