Home Sweet Home Festival
Event Is Over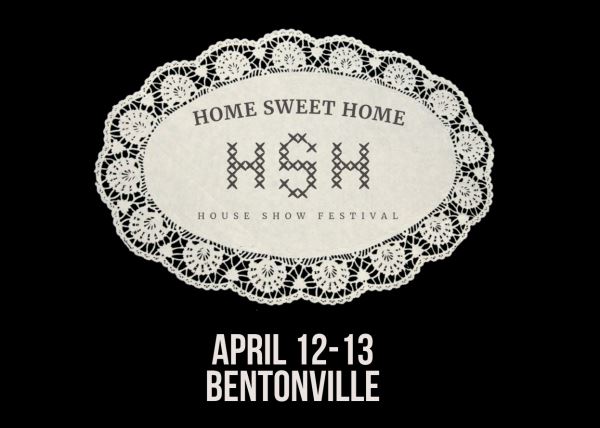 Opens
5:00 PM
Starts
Apr 12th 2019 · 6:00 PM (Fri)
2 days
Ends
Apr 14th 2019 · 12:00 AM (Sun)
Where
Bentonville, AR 72712
Refund Policy
Refunds Up To 7 Days Before Event Unless Canceled or Rescheduled
Music
Country, R&B, Indie, Americana, Folk
Details
Home Sweet Home Fest is the uniting of hospitality and music.
City Sessions is baaack! And presents the first ever "Home Sweet Home" House Show Festival. That's right - a festival of house concerts in Bentonville.
Northwest Arkansas has always been known for its hospitality and patronage, and is quickly becoming known as one of the most exciting new music cities in the country.
36 Shows
8 Host Homes
25 Touring and Local Artists
- Joshua James, Trella, Dawn & Hawkes, Smokey & the Mirror + friends (secret show), Sawyer, Opal Agafia, Dana Louise, Jamie Lou & the Hullabaloo, Dane Joneshill, Baang, Josh Noren, Lost John, Kevin Kiehn, Kalyn Fay, Will Gunselman, Cameron Johnson, Andrew McLaughlin, Suite 25, Ashtyn Barbaree, Benjamin Del Shreve, TJ Williams and Sluyter.
You can purchase festival passes for each day that ends with one of our headlining artists: Joshua James, Dawn & Hawkes and Trella. Our very own Smokey and the Mirror will be bringing some surprise guests for a Saturday night headliner show as well! Individual tickets can be purchased at the door for $10, though festival pass holders will get priority and seating is limited.
Single Shows: $10 at the door
Friday Headliner Shows: $15
Friday Festival Pass (up to 3 shows + Joshua James OR Dawn & Hawkes headliner): $40
Friday Festival Pass (up to 3 shows + Smokey SECRET Show headliner): $50

Saturday Headliner Shows: $25
Saturday Festival Pass (up to 3 shows + either headliner): $50
- Beer and Coffee by Bike Rack Brewing Co
- 20% off dinner discounts for ticket holders at Yeyo's Mexican Grill and Loafin Joe's (8th Street Market)
Go to https://www.homesweethomefest.com for more info and to purchase tickets
At Home Sweet Home Fest you'll have an opportunity to hear so many incredible stories, listen to so much incredible music and meet some incredible people. Don't miss this one of a kind experience!
Thanks to our sponsors:
Walton Family Foundation
Signature Bank
Bike Rack Brewing Co.
Yeyo's Mexican Grill
Loafin Joe's