Event Is Over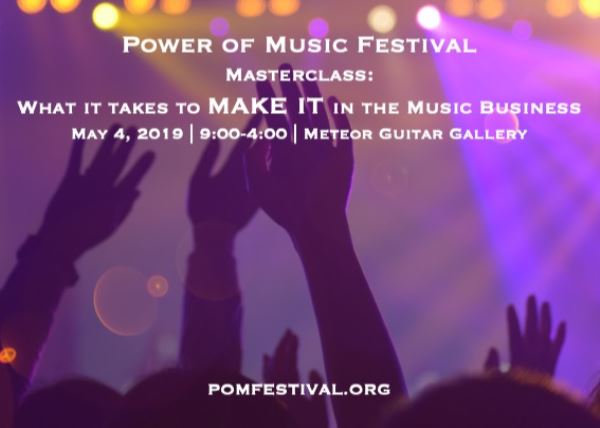 Masterclass: What It Takes To Make It In The Music Industry
Power of Music Festival
Opens
8:30 AM
Starts
May 4th 2019 · 9:00 AM (Sat)
Ends
May 4th 2019 · 4:00 PM (Sat)
Refund Policy
No Refunds Unless Canceled or Rescheduled
Where
128 W. Central, Bentonville, AR 72712
Conference, Classes, Training, or Workshops
Education, Business, Marketing
---
Details
Masterclass: Music Business 101 – Three music executives, with years of experience across the music industry, teach emerging songwriters, artists, and other music industry professionals insights for launching and growing your career. This master class will help you navigate the maze that is the modern music industry. Opportunity for attendees to have one of their songs critiqued by the three instructors at different breakout sessions. (additional fee)
Get a detailed overview of the music industry from Shelby Kennedy. You'll find out who has a seat at the table, what they do, and what they mean to you. Learn the truth, not the myth.
Chris Oglesby teaches you the Seven Laws of Songwriting. Learn the proven process to create better, more viable songs.
Artist Development and branding is the key to developing a sustainable career. Stephen Linn explains how realizing you are a small business, and acting like one, will allow you to develop your personality brand, grow your digital footprint, and create a business.
Find the Bios to the Masterclass instructors at: https://illflyawayfoundation.org/events/power-of-music-festival/