Wild Harbors House Concert
Event Is Over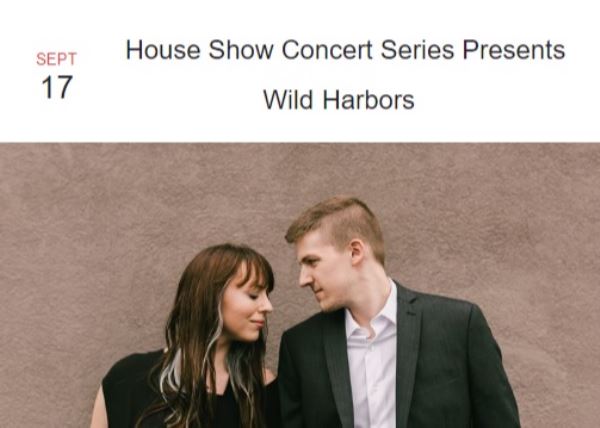 Opens
6:00 PM
Starts
Sep 17th 2019 · 7:00 PM (Tue)
Ends
Sep 17th 2019 · 9:00 PM (Tue)
Where
128 West Central Ave, Bentonville, AR 72712
Refund Policy
No Refunds Unless Canceled or Rescheduled
Music
Pop, Indie, Americana
Details
We are thrilled to invite everyone to come and hear Wild Harbors play at our next installment of the House Show Concert Series. This husband and wife duo are simply amazing musicians and storytellers. We hope you will join us for a night of music, good desserts, drinks, and conversation at the Meteor Guitar Gallery.
The doors will open at 6:30, the show will start at 7:00 pm. Tickets are $10, online or at the door. Kids are free as always, and everyone is welcome.
We hope to see you there!
Here's a bit about Wild Harbors and their album Monument from their website:
(
https://www.wildharbors.com/about
)
At the intersection of artistic pop and organic singer/songwriter, Monument serves as a fitting introduction to the Maryland-based couple behind Wild Harbors. Chris and Jenna exude an immediate warmth and authenticity across interlaced harmonies, quirky melodies and rich storytelling.
"I don't want the music we play to be so tied to a certain label, Christian or otherwise, that someone outside that sphere would think, 'That's not for me,' before they hear it," Chris explains. "Sometimes it's scary to be treading that line a little bit, but it feels authentic to us, so we keep doing it."
"We're trying to be obedient to write from authentic experience," Jenna adds. "People value honesty and conviction, and they value those who can be completely bold and sold out. I hope our friends who aren't believers are hearing messages in our music they can connect with. They also see that we're not being apologetic about what we believe or who we are."
Here are some links to check out videos of their amazing music:
"Monument"
https://www.youtube.com/watch?v=qg7mR6xbazQ
"House on Fire"
https://www.youtube.com/watch?v=zuG0dpV6Ays
"Alone Together"
https://www.youtube.com/watch?v=muEfJW6vl-I
"Battle"
https://www.youtube.com/watch?v=72_TRfG8dGU
"Abigail"
https://www.youtube.com/watch?v=YiF02KQ8eK8&list=PLiZ5HORsH6JcLzhNRTgmrI913RwFSjg4m