Ozark Blues Society and Clorox Company
2019 Blues Challenge
Event Is Over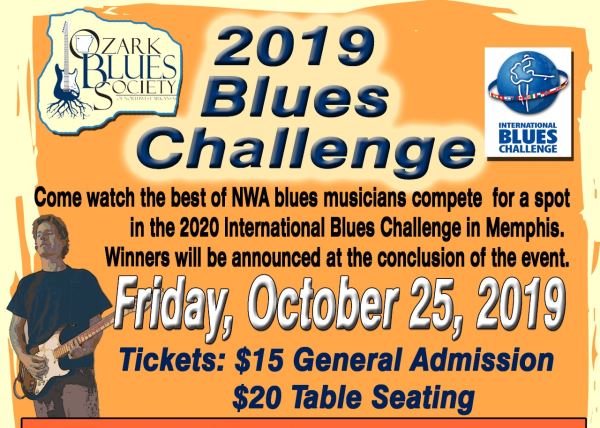 Opens
6:00 PM
Starts
Oct 25th 2019 · 6:30 PM (Fri)
Ends
Oct 25th 2019 · 11:00 PM (Fri)
Where
128 West Central Ave, Bentonville, AR 72712
Refund Policy
No Refunds Unless Canceled or Rescheduled
Details
The Ozark Blues Society of Northwest Arkansas will host its Annual Blues Challenge at The Meteor Guitar Gallery in downtown Bentonville, Arkansas. The society is seeking entries from Blues bands and solo/duo artists to compete in this event.

The acts entered in the challenge will each perform a 20 minute set in a randomly chosen order, which will be announced once registration closes on October 11, 2019. The winners of the challenge will be announced at the conclusion of the evening event -- one band and one solo/duo act will go on to compete at the Blues Foundation's 36th International Blues Challenge on Beale Street in Memphis on January 29-February 1, 2020.


The October 25th competition will be judged by professionals in the blues music business, such as professional musicians, music media writers, music promoters, blues radio show hosts, and/or officers from other blues societies surrounding Northwest Arkansas.
Important Criteria: Registration for the Blues Challenge is open to all members of The Ozark Blues Society of Northwest Arkansas. At least one member of each act entering the challenge needs to be a current member of the society. Not a member? Be sure to register from this website's home page before submitting your blues challenge application.

Application fees to enter the Blues Challenge are $25 for a solo/duo act and $50 for a band. Registration closes at midnight October 11, 2019.


The Ozark Blues Society of Northwest Arkansas will sponsor and reserve the following IBC lodging accommodations for our Blues Challenge winners (no cash value):
Solo/Duo Act: 1 Hotel room (4 nights) located near the Beale Street Entertainment District
Band Act: 2 Hotel rooms (4 nights) located near the Beale Street Entertainment District