Irie Lions-Koodookoo-Life Explicit
Event Is Over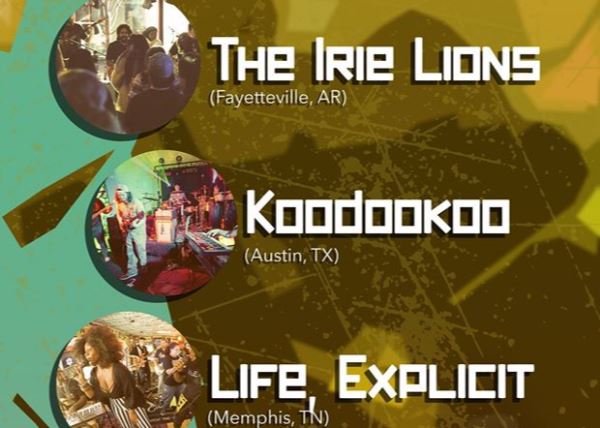 Opens
7:00 AM
Starts
Nov 23rd 2019 · 8:30 AM (Sat)
Ends
Nov 23rd 2019 · 11:30 PM (Sat)
Where
128 West Central Ave, Bentonville, AR 72712
Refund Policy
No Refunds Unless Canceled or Rescheduled
Details
On November 23 SAT, Meteor Guitar Gallery will be featuring these premiere regional bands:
The Irie Lions (Fayetteville, AR)
Koodookoo (Austin, TX)
Life, Explicit (Memphis, TN)
The amount of talent that will be onstage this night will blow you away!! This is a night of music that you don't want to miss, so save the date! Come witness life in the form of music, and celebrate music formed from life.
$10 at the door
7pm doors open
8:30pm music begins
**Save your spot by purchasing your ticket in advance at www.stubs.net**
THE IRIE LIONS bio:
The Irie Lions are an original 6 piece reggae band based in Fayetteville, AR. The soundcape of this group quickly becomes a rich and full setting for the ears with smooth vocals, bodacious hooks, catchy melodies, & funky grooves, The Irie Lions prove to bring originality and good vibes to any stage.
​Each member comes from a different walk of life, but are one unit in sound and spirit. Hoping to take their life experiences and mold them into songs of inspiration, this group's mission is to bring life and understanding to the world in the form of great original music.
KOODOOKOO bio:
Koodookoo invites you to travel the furthest reaches of the multiverse and dive into the deepest parts of your heart and mind on a consciousness-expanding journey. Formed in 2017 from the live music capital of the world, Koodookoo has developed a tidal wave of sonic abilities that bend reality, push boundaries, and transform all preconceived notions of where music can go.
Since busting out in the Austin jam scene in early 2018, Koodookoo has wiggled its way into the ears and hearts of an ever growing family they have dubbed the Koodookrew. Koodookoo has supported notable acts such as Chali 2na of Jurassic 5, The Werks,Bumpin Uglies, and Jon Stickley Trio, while also headlining shows in Texas to an always enthusiastic crowd. Fresh off their first tour, Koodookoo is booking a busy and exciting calendar for 2020 in TX and beyond. Stay tuned, things are moving fast for the Krew!
LIFE, EXPLICIT bio:
Life, Explicit is a funk band from Memphis, TN. The group pays homage to the rich musical heritage of Stax and Hi Records, while drawing a line through the influences of the past to the rock, funk, hip-hop, and soul players of today. Consisting of vocals, guitar, bass, keyboards, drums, percussion, and horns, Life, Explicit is made up of members from a large, multicultural background, with each member contributing their own unique style to form an exciting and soulful brand of funk.
Prior to forming Life, Explicit these musicians regularly called upon each other for studio sessions and supporting various live acts. These like-minded musicians naturally solidified into a cohesive unit. They have spent the better part of 2017 recording original material and backing Grammy nominated hip-hop artist Tyke T in support of his latest release, 30 Day Mixtape and billboard-charting EP, The Prelude.