Dead Elvis and Soldier's Tale
May 16th 7:00 PM
Dead Elvis and Soldier's Tale
---
Arkansas Philharmonic Orchestra
Dead Elvis and Soldier's Tale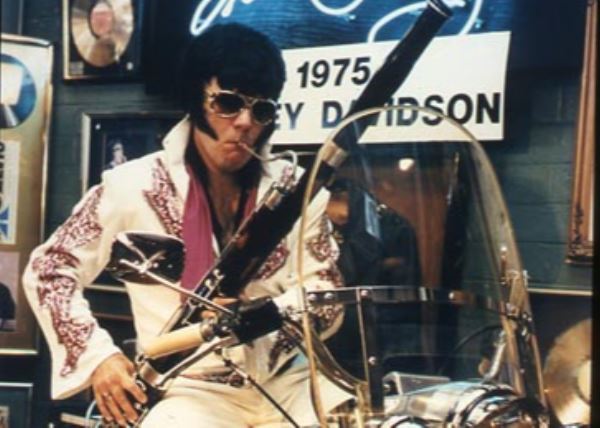 Opens
6:30 PM
Starts
May 16th 2020 · 7:00 PM (Sat)
Ends
May 16th 2020 · 8:30 PM (Sat)
Where
104 SW A St, Bentonville, AR 72712
Refund Policy
No Refunds Unless Canceled or Rescheduled
Contact
Event Links
Actions

Details
Join us for our season finale celebrating our 10th anniversary! Maestro Steven Byess and the Arkansas Philharmonic present Michael Daugherty's Dead Elvis

also known as

Develvis for Solo Bassoon and Chamber Ensemble. This work was inspired by the King of Rock-n-Roll himself, Elvis Presley. Also on the program is Igor Stravinsky's The Soldier's Tale.
Michael Daugherty.
Dead Elvis
for Solo Bassoon and Chamber Ensemble (1993)
Igor Stravinsky. The Soldier's Tale (1918)
***
Two different epochs and at first glance, two completely different stories. But don't get misled – the same combination of musical instruments is not the only common thing between The Soldier's Tale by Igor Stravinsky (1882–1971) and Dead Elvis by the Grammy-winning contemporary American composer Michael Daugherty (b. 1954). The Faustian motif, like a red thread, weaves through both compositions – hardly palpable in Daugherty's piece, it reaches full expression in Stravinsky's composition. Did the legendary Elvis Presley trade his authentic Southern identity for a classy image, wealth and glory? Is he really dead? Elvis' spirit tells its story in the voice of the bassoon, played solo on the stage of Vilnius Congress Hall by one of Lithuania's leading bassoonists, Andrius Puplauskis.
Originally conceived as a theatrical work, The Soldier's Tale by Stravinsky is scored for an unconventional septet of violin, double bass, clarinet, bassoon, trumpet, trombone, percussion, three actors and a dancer. The music tells a really Faustian story: in exchange for a magic fortune-bringing book, a deserting soldier lends his fiddle to the devil for three days. However, as three days turn into three years, the soldier is thought to be a ghost when he finally shows up in his hometown. Eventually, the soldier realises that money doesn't bring happiness and longs for his previous life. Running into the devil again, the soldier repurchases his violin, but finds it unsuitable to play.
The Soldier's Tale by Igor Stravinsky can hardly be attributed to any specific music genre; combining such opposites as jazz, Viennese waltzes and ragtime, it fluctuates between a return to the musical tradition and its total rejection. Composed at the dawn of Modernism, The Soldier's Tale became one of the brightest and most influential chamber music works of the early 20th century.
Classical Kids Club will not be available at this concert. Concert is not recommended for kids under 12.
Cash bar will be available.